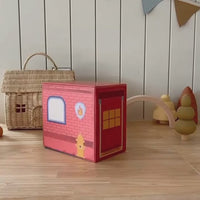 Olli Ella Holdie Dog-Go Racer Chief, Red
Meet the Olli Ella Holdie Dog-Go Racers!
Why You'll Love It
Unleash the excitement with our Holdie World™ Dog-Gos. Meet Dog-Go Chief, the fearless pooch who's blazing a trail in their fire engine, turning heads and melting hearts. When the day is done, Dog-Go Chief loves to park in their garage box, ready to play again tomorrow.

Made from a wool blend with embroidered features, nestled in a classic car with wooden wheels.
Designed for little hands age 3+ to play
Doubles as a beautiful nursery decoration
Packaged in a collectable (and recyclable) gift-ready garage box
Garage-themed box is designed to unfold and use as a pretend play prop
Encourage imaginative play
Mix and match! Cars also fit Holdie Folk drivers
What's Included
Holdie Dog-Go Chief & removable helmet

Holdie Dog-Go fire engine

Sturdy cardboard garage with magnetic closing door
Dimensions & Packaging
Holdie Dog-Go Chief: H 9cm (with helmet) x W 6cm x L 6cm

Car: L 14cm x H 8cm x W 9cm
Box: L 18.5cm x H 17cm x W 11.5cm
Weight: 0.13 kg
Handmade in India
Puppy Pampering & Car Care
Wipe clean with a damp cloth. Dry clean, do not wash.
Questions Unleashed
Q. Can Dog-Go Chief be removed from the car?
A. Yes, Dog-Go Chief can be removed from the car. Our Holdie Folk can fit in the car and drive too!
Q. Are there different dog characters to choose from, or is there only one design available?
A. There are four designs to choose from: Racer Girl, Racer Boy, Officer, and Chief
Q. How do the wheels on the car perform on different surfaces, like hardwood floors, carpet, or tiles?
A. The smoother the surface, the faster the Dog-Gos can drive!
Q. Are there additional accessories or outfits available for the Holdie Dolls and the dog?
A. No, the Holdie Dog-Gos each come with their own themed, removable helmet
Q. How do Holdie Dog-Gos promote imaginative play and creativity for children?
A. Toy cars and dolls promote imaginative play and creativity in children by enabling role-playing, storytelling, and problem-solving, all while leaving room for open-ended imaginative adventures that help children develop a wide range of skills in an engaging and fun manner.